Clock - Panorama

The Community Clock or "Roloi" is situated on a hill that dominates on the west side of Karyes. It is on a priviledged spot from which the visitor has a manoramic view of almost συνόλου του χωριού, the foothills of mount Parnon and the vast size of mount Taygetos.
The Clock or "Roloi"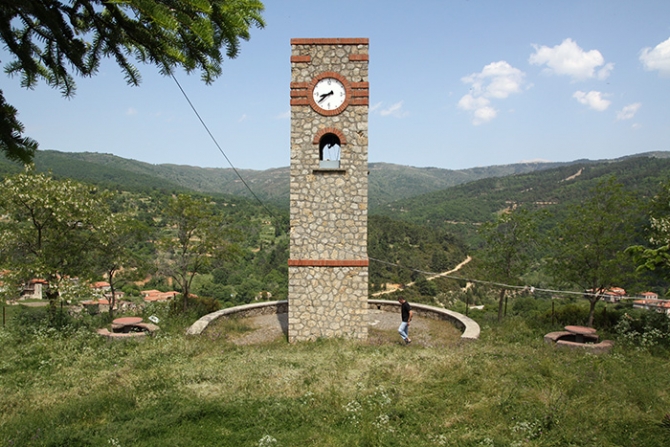 The Karyes Community Clock or "Roloi" was built in 1930 with donation from Georgios Il. Iliopoulos. Its inauguration took place the 28th of July 1931 and it had a regular guard, Mathaios Petroulias, until 1944. On the 15 of March 1944, the second day that Nazis invaded and burnt Karyes, among others they blew up the Clock. At first they broke the closed iron door with two grenades and then they planed inside mines. The explosion that followed caused its total demolition. In 1955, in the same spot a new Clock was built with the donation of Ilias Georgiou Iliopoulos, a "Roloi" that stands until today.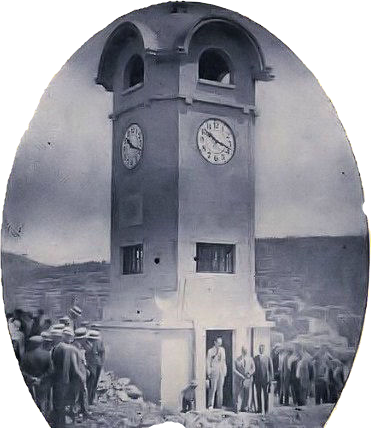 The old "Roloi" before its destruction by the German Nazis
Agios Ioannis Church (St. John)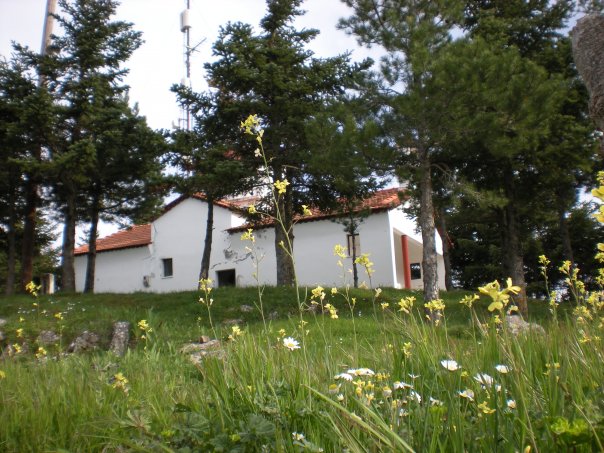 In the same area with the "Roloi" there in the church of Agios Ioannis (St. John), which was built between 1860 and 1870. Until the beginning of the 20th century, the church honored also Agios Panteleimon on the 27 of July, but the fest was moved later to the church of Agios Andeas in the central square and today this is the larger fest of Karyes.
In the 1970s brothers Andreas, Panagiotis and Konstantinos N. Harakas proceed to the formation of the space of the grove and its enclosure, and for that reason they gave a piece of their own property.
The 2000 temple was renovated externally and internally with contributions from the compatriots of the Adelphotis, but also from Karyates of the village. Lastly, in 2018, with the initiatives of the Karyes Church Council, with the contributions and personal work of our compatriots, the roof was repaired, the temple was painted externally and internally, while oleanders were planted in the grove, while from 2016, at the expense of the Karyates Association, the temple was illuminated externally.