Karyes' Central Square
Central Square or Agios Andreas Square

The central square or Agios Andreas Square in the center of the village's life, it is placed under the "shadow" of Agios Andreas Church and it is formed of three (3) levels. It can be found on the right side of the main road, but it can be accessed on foot, because it is fully paved for pedestrians.
On the center of the lower level there is a plane tree, which offers its shadow and breeze during the summer and under its leaves someone can enjoys the services of cafes. At the second level, there it another smaller plane and other trees.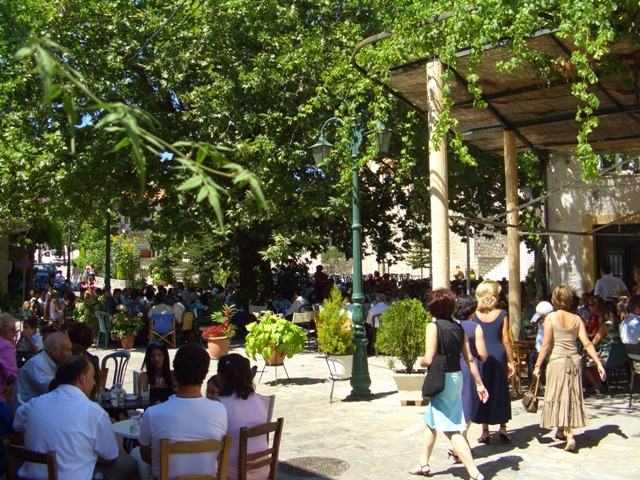 In that spot someone can have lunch or dinner at the taverns and the children can enjoy playing on the rest of the space. Finally at the higher level there is the "Iroon" with the statue of liberty and the Community Building. Every year on the 27th of July takes place a fest honoring Agios Panteleimon and during that time hundredths of people visit Karyes to join the celebration.
Church of Agios Andreas (St Andrew)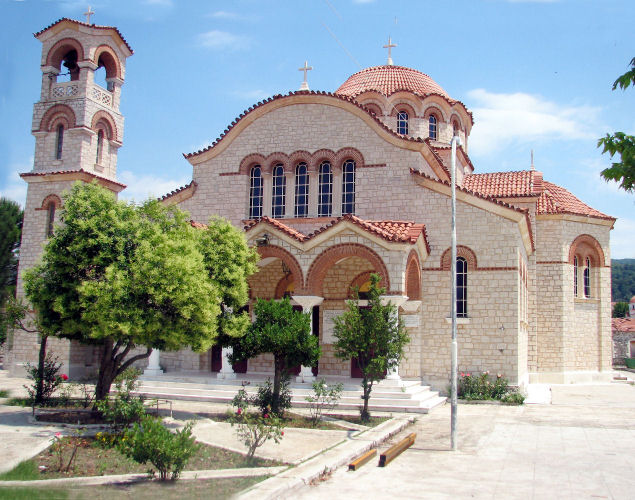 The church of Agios Andreas was built during the 1960s in a few meters distance from the old church, with the donation of Brotherhood of Arahovites-Ai Karyai and the initiative of the great benefactor Ioannis Georgiou Darmos. Other great benefactors also contributed for the completion of construction, which are Panagiotis G. Karygiannis, who left all his fortune to the church and Georgios K. Kostalas, who donated money in order to build the spire of the church. The inner of the temple has beautiful frescos and there is a amazing marble "templo" (screen).
Karyes Community Building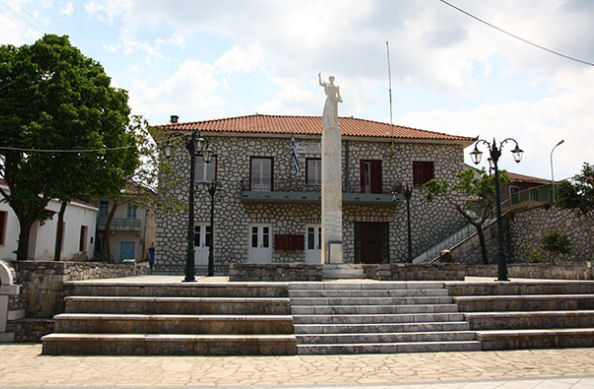 The stone built Karyes Community Building is on the edge of central square and it was built with donation from Brotherhood of Arahovites - Ai Karyai during the 1960s. On the ground floor it has a hall specially designed to host meetings and events and on the first floor there are the offices of the local self-government.
Heroon and Statue of Liberty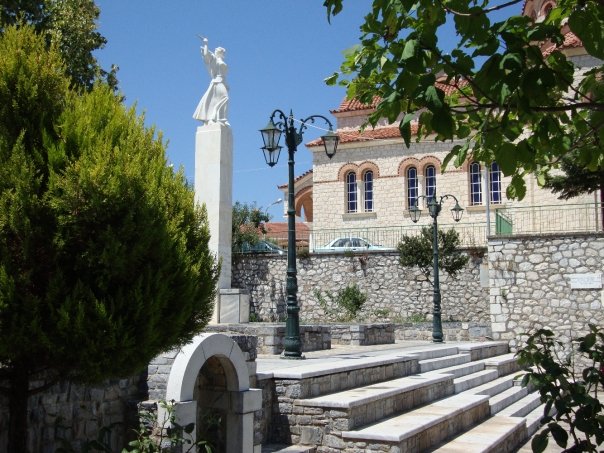 The Heroon of killed non-combatants heroes with the "Statue of Liberty" is placed on an elevated pedestal and it is a donation of Ioannis Tourogiannis. On its sides are carved the names of the "lost youth of Karyes" that lost their lives at battles of the Hellenic Nation.