European Path E4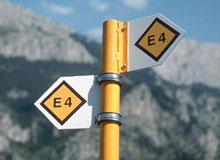 Karyes are an ideal base for activities and excursions on Parnon mountain and it is fact that from Karyes passes through the European path E4, which starts from Pyrenees mountain in Spain, enters the northern of Greece at Florina and ends at Zakro of Crete. Many lovers of nature, hiking and trekking, pass through Karyes following the path's route and enjoying the beauty and colors of nature.
The European Path E4 in Greece
The E4 is an international path under the surveillance of the European Ramblers Association (E.W.V.) and it is carved and singed from the Hellenic Federation of Mountaineering & Climbing. The European Long Distance Path E4, begins at the Pyrenees mountain in Spain, crosses the Bulgarian-Greek borders at Promahonas, follows the road of Promahonas-Serres untill the bridge of Strymon river, where it intersects with E6 and reaches again Greece through ex-Yugoslavia at the Nikis Outpost, northern of Florina. It continues south crossing the mountains Vernon, Vermion, Pieria, Olympus, south of Pindos and it ends at Delphi. Then, it crosses the Corinth gulf to Peloponnese, from Gytheio reaches Crete from the sea and there it begins from Chania prefecture and ends at Lasithi prefecture. It continues at Pafos in Cyprus and finally it ends in Larnaka. The path offers at the trekker the ability to acknowledge the variety of landscapes and the wealth of the Greek nature.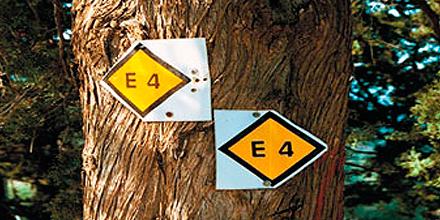 The path's route in Greece is divided in 3 parts: the North, the Middle and the South. The north reaches Meteora, the middle reaches Delphi and the south crosses Peloponnese and reaches Gytheio.
The highest altitude of the route is the peak of Olympus Skolio (2.911 m). The climate of the route is Mediterranean, the southern part of the path (Peloponnese) is much easier than the northern part and it can be crossed during all seasons, because the climate there is milder.
The best seasons to follow the path in southern Greece is spring and autumn but it should be considered that in Peloponnese the mountains until April are still covered with snow.
The Hellenic Federation of Mountaineering & Climbing has published leaflets for E4 in three languages (English, German and French), and maps which contain descriptions for E4 and E6 paths in two languages (English and German).